Professional Certificate in Academic Practice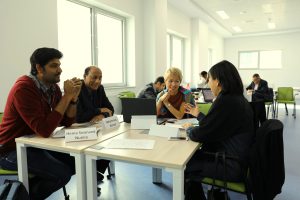 The Professional Certificate in Academic Practice (PCAP) Programme is a professional development initiative offered by the Institutional Effectiveness team that aims to promote high quality teaching and assessment practice.
The PCAP Programme supports the development of academic practitioners as accomplished educators, who create research-inspired and inquiry-led learning environments. It builds on faculty members' prior experience, extends and broadens it.
The three-week programme is delivered on NU campus by Advance HE (former the Higher Education Academy, United Kingdom). It is constructed within three dimensions: areas of activity, core knowledge and professional values which provide the context for participants to develop, discuss and reflect on their academic practice.
The programme leads to an internationally-recognised professional certification.
The dates of the upcoming events will be posted in this section. If you have any questions please contact us.
Here is what some participants shared in the anonymous survey following one of the PCAPs:
"I have been encouraged to use more technology in the classroom and this course has given me some ideas of how I can do this".
"The program challenged me to examine my teaching methods and effectiveness and integrate more student-centered learning methods/tools into my practice".
"Good program, especially for non-education schools".